the BOLOGNESE Dog
the STORY
---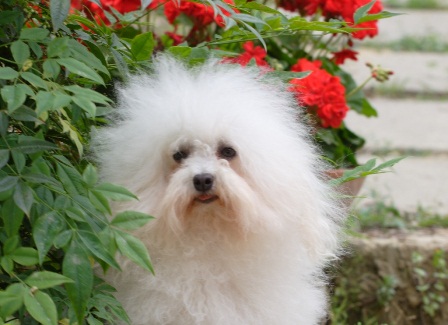 I belong to group 8, "Companion dogs". I am small in size : dog 27 cm (11 inches) -30.5 cm(12 inches), bitch 25.5 cm (10 inches) to 28 cm (11 inches). I am also very light: about 3 ,400 kg (75lbs) as a adult dog. I am a compact square built toy dog, with a distinctive pure white coat. My coat is long, flocked and stands away from the body. My small button nose is black and so are my lips and eyelids and my skin. My nails and fingertips are black also. My tail is high set over the back and curls over. I walk with a smooth strong gait carrying my head high.
I am a clever, bright, intelligent, obedient little dog that bonds very closely with its owners. I love to stay with people … and really there isn't much else I can do. I love company and get fond of the whole family I live with. I am clean and nice, I get along with everybody in the family and also with other larger dogs in the garden. I am not intrusive but I don't like to be left on my own too many hours during daytime. I am a robust, well muscled little dog. I don't need a dog coat in winter, I only try to avoid too much of the blazing sun. I tend to have a long life span. If you decide to choose me I will live with you for a long time.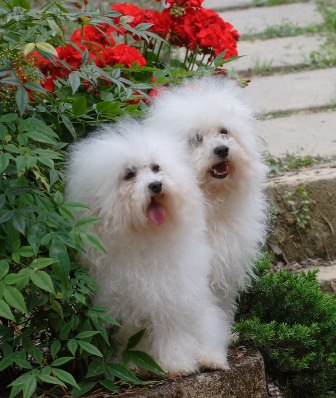 I don't require much grooming, just a few brush strokes a week to remove knots if there are any and eliminate dead hair. And I also need a bath a month with nice balms or hair conditioners. As anybody else I have to get accustomed, when I am still a puppy, to this brushing and to all the other checks, eye check, ear check , tooth check or else when I'm an adult I won't understand what you are going to do to me.
My breed enjoyed a lot of popularity with the ruling families and the nobility in the 1500's as companion dogs. I was loved in the royal courts of Europe and Philip the Second said I was " the most royal gift one could offer to an emperor ". Cosimo the Old, of the Medici, gave 8 of us Bolognese as a present to the Brussels magnates and Katherine the Great of Russia had a lot of dogs of my breed. The Marquise of Pompadour too had Bolognese dogs and Hereditary Prince Umberto of Savoy presented his fiancée Maria José of Belgium with Bolognese dogs. So from life in royal courts we have reached our present days after many events and turmoil, and we have even risked extinction. I was the expression of a certain lifestyle, standing and social class. Times changed and my breed became rare, even in Italy, No longer than twenty years ago there were only a few individuals of my breed left and we have risked disappearing altogether.
Now I am available to all. I don't care about rank or social class. I love to keep company and bond with people.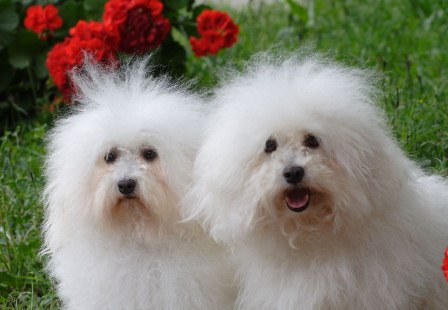 ---
do lusiadas kennel by fabiana bazzani - (florence ) - ITALY
mobil phone 349-5789127 in italian language | e-mail : info@dolusiadas.it
---