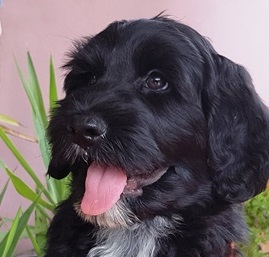 MOSE' DO LUSIADAS - here you can see some photos
They have a great bony structure, very strong and compact and definitely "in the square", beautiful at the morphological level so much so that they have the cards in place for a future shows.
They were tested for character by showing, good hardening, good docility, good predation instinct, and average temperament. They adore the water with which they have a positive imprint of 30 days of age with the small pools they have every day available.
Parents are free of the diseases we control in the breed (JDCM, IC, PRA, GM1.). All copies of the genetic tests are provided before the puppy is adopted. Both parents have hip displasy degree "A" and Elbow displasy grade "0".
By July 28, they will complete the vaccination plan. They have no defect and their reservations have been canceled at the last minute for my choice.
I do not give up Puppies in America (if people do not have good references to give), but they are well accommodating both Italian and European housewives, with an special eye to people who are engaged in beauty / work fronts.
Videos are available for "weight" issue via whatsapp, on request to my mobile 349-5789127 (italian prefix 0039)
Some contry accept puppies without Rabies Vaccin if he starts before was 3 month old (their time is 8th of august). After 3 month they need (for all countries) Rabies Vaccin and need wait to start after 21 days old .